A little bit of information about me, because I think you deserve to know something about the person whose business you will be entrusting your child to.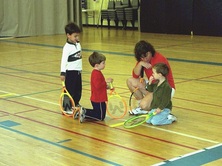 My name is Nancy Rushefsky and I have been working with kids for over 20 years. I decided to specialize in tennis back in 2003 and have been happily sharing this sport with kids from age 3-18 ever since. There are a lot of really good tennis coaches here in Austin. What I bring to the table is my experience, attitude, philosophy, sense of humor, and my energy with the kids.
---
A couple of my favorite quotes:
"We are what we repeatedly do. Excellence then, is not an act, but a habit." - Aristotle.
"A mind once stretched by a new idea never regains its original dimension." Oliver Wendell Holmes.

I am a
Seedling Mentor
, where I have mentored since 2007. Seedling Foundation serves kids who have one or both parents incarcerated.
I am a volunteer with Meals on Wheels and More.
I am an annual volunteer with Coats For Kids
My hobbies include hiking, kayaking, camping, cycling, reading, and spending time with my dogs, and of course, playing tennis!