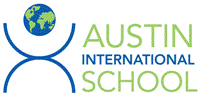 Austin International School
- 512.331.7806
​4001 Adelphi Lane
School year only, AIS Students only. Tennis taught in the comfort of the foyer, with modified balls and portable nets. Register and pay through AISMonday afternoons:
Class 1: 3.30-4.00
Class 2: 4.05-4.35
Class 3: 4.40-5.10




Monday after school program: Taught by Coach Nancy or Kidfit-Tennis staff Spring 2018 – 14 weeks
January 8, 22, 29,
February 5, 12, 19, 26,
March 5, 26,
April 2, 9, 16, 23, 30
No classes
January 15, March 12, 19
Make up dates:
May 14, 21
---
Basic tennis for young children will be taught in a fun, cooperative environment in the comfort and safety of the foyer. I will teach them proper tennis to allow them to graduate into a real court setting with all the basic skills in tact. Most kids who progress to real court with me or elsewhere begin at a higher level and have quicker success from having spent time in the tiny court with the slower balls. I emphasize fun, but I also require them to learn correct racket path, proper footwork, and the language appropriate to tennis. The small, indoor environment is appropriate for ages 3 -9. Parden these old pics, they are from the old school on Oak Knoll.